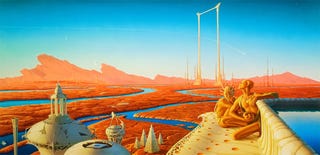 This is a bit of a throwback; a 2002 release of a 1979/80 television score. But it's a really interesting "forgotten" soundtrack that I discovered this week, so here ya go!

_______________________________________________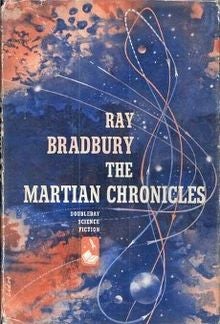 Ray Bradburry's 1950 short story anthology/episodic novel is, of course, a beloved science fiction classic that's on many fans' must-read list, but some folks don't realize that it was a television mini-series as well.

The "future history" stories feature a life-supporting and long inhabited version of Mars. The people of a dying Earth visit and eventually colonize the red planet, and the two disparate civilizations collide.
____________________________________
The joint NBC/BBC 4-hour production (with screenplay by the legendary Richard Matheson) was not a big hit among the critics, though it stayed quite faithful to the book. If science fiction aficionados were to watch it now, opinions would surely be all over the map. But remember, back in 1980, an intelligent adaptation of a cerebral science fiction novel on U.S. network television (with big stars!) was a rare thing indeed.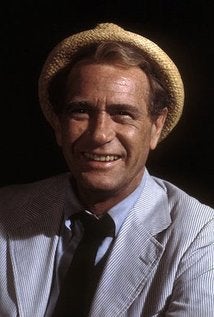 Composed by Stanley Myers (Academy Award for The Deer Hunter), the soundtrack album was released by (the mysterious and now-defunct) Airstrip One label in 2002, and was produced in conjunction with the composer's estate and the (U.K.) Royal College of Music.

Featuring traditional orchestra, ancient wood flutes, and a plethora of 1970s synthesizers (now "vintage items" and back in vogue in a big way), one might imagine that this album could become popular among modern listeners with "retro" tastes.
The physical version of the soundtrack also features a 24-page booklet with an introduction and tribute by German New Wave* musician Hans Zimmer, who collaborated with Stanley on several films (including 1984 Bruce Willis movie Blind Date).
(Bonus fun from '79: Here's Hans Zimmer playing keyboard on his first hit!)

________________________________________________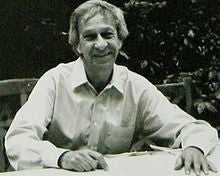 The 2002 version The Martian Chronicles has been the only commercial release of the television score, and it's currently still available in digital and physical versions from CD&Record shops like Amoeba Music, as well as Amazon and Apple iTunes.
New and used CD prices are ranging from 5 to 26 USD.
Enjoy!
[Amazon CD link] [Apple iTunes link]
[Amazon MP3 link with playable music clips]
(I was unable to find it on Spotify or LastFM, so the playable clips are your best bet for a sonic overview of the score.)
______________________________________________
The Martian Chronicles: Opening Credits/Theme Song

The Complete Mini-Series, for your viewing enjoyment:
2002 Album Cover (featuring Rock Hudson's starched leisure suit, in space!)