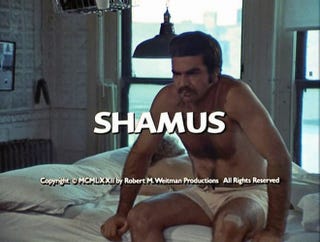 Pretty good. Very violent. Directed by Buzz Kulik. Burt Reynolds. Morris the Cat. It's basically The Big Sleep in parts. Another movie I originally saw on this-TV. Loosely based on Ed McBain. Stunt gone wrong near the end could have been really bad. I've heard it was Burt, but also that it was Hal Needham who took the fall.
Trailer.
There is a shot in the movie where Burt Reynolds grabs a tree branch during a chase scene, it breaks and he falls to the ground. That was not planned. The branch broke accidentally during filming and the footage looked so good, they kept it in the film. This particular stunt was performed by stuntman Hal Needham. He subsequently suffered a concussion when he hit the ground.

Actor Burt Reynolds suffered an injury during an accident whilst shooting this picture where Reynolds sprained his back.

1979.