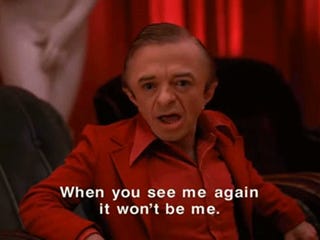 So spaced99 and I have been swapping a WAV file back and forth like a musical virus and it has finally evolved into something we are both too sick of to fix anymore. Thus we humbly submit to you our second installment in what will be a ten-hour song cycle based on the Peloponnesian War.
That last part is a lie.
Truth is, spaced99 pressured me into writing something with more than one chord and it came out sounding like a passable hybrid of minimalist horror electronica and Angelo Badalementi. Then, spaced99 added some subtle synthetic tweaks, a beautifully dreamy, reverb-drenched guitar and breathed the very spark of life into its sad little soul.
And, if that weren't enough, spaced99 went into overdrive and created an AMAZING intro that I was simply blown away by. He creatively Bieber Stretched the original track and then single-handedly composed this pulsingly intense piece of music over top with electronic voicings so vast, cool, and unsympathetic that they would make Trent Reznor fall right off the wagon and deep into a barrel of absinthe. We debated on tonal incongruities and whether or not it adversely affected the overall pacing of the original track, but it was too good to not include. I demanded he create MOAR of this because it is far too short.
I always get way too verbose with these things, so I will just shut up now and let you listen to this, our humble sophomore submission: When You See Me Again, It Won't Be Me...